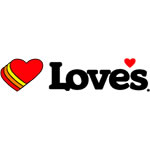 Love's retail roll out brings Hot Shot's Secret products to diesel drivers nationwide
Today Lubrication Specialties Inc. announced that its premier products, Hot Shot's Secret Stiction Eliminator and Diesel Extreme are now available at more than 260 Love's Travel Stops across the country. This retail roll out marks continued and widespread growth for the parent company.
"Love's has been at the forefront of the travel center industry for a half a century. We are always searching for new ways to serve our drivers, so we're very pleased to have innovative products like Hot Shot's Secret on our shelves," said Kyle Sloan, Love's Category Manager.
Love's joins the other 400+ distributors that currently carry Hot Shot's Secret products — such as Pilot Flying J, Tractor Supply Company, Auto Zone, Rural King and Travel Centers of America.
The addition of Hot Shot's Secret products will provide Love's customers with highly concentrated solutions, more impactful than other diluted alternatives. Initially, Loves' will carry Hot Shot's Secret premier products Stiction Eliminator (oil additive) and Diesel Extreme (fuel additive).
"We strive to bring extreme-duty, high-performance and custom-made products that are typically only available to large commercial customers, to everyday users," explained Lubrication Specialties' Chris Gabrelcik. "Our mission is to help all truckers solve their vehicle problems, not just treat them. The addition of Love's Travel Centers will make it even simpler for drivers to access our problem-specific solutions."
Love's and Lubrication Specialties, Inc. have similar, small business values. As a family-owned company, the owners of Love's take an active role in what's happening in all their stores and want only the best for their customers. "We are proud to be partners with an organization that sees eye to eye with our values," said Gabrelcik.