About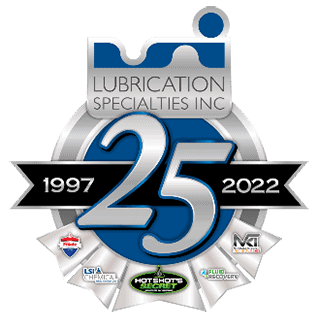 IN A QUEST FOR INNOVATION, CONSISTENCY IS THE KEY
It is our goal to bring extreme duty, high performance, custom-made products (typically only available to high end customers) to end users. We find products being used by industrial and commercial customers and offer them in small quantities to everyday users. Products that have been engineered to resolve issues, last longer, make equipment last longer, or improve efficiency.
Today, Lubrication Specialties continues to grow rapidly due to the dedication of offering the highest quality products available to end users.
BRING YOUR PROBLEM TO LUBRICATION SPECIALTIES
Lubrication Specialties is in a unique position where helping other companies achieve their goals is now easier than ever with expanded production capacity, a robust research and development team, quick delivery times and state-of-the-art testing and development.
Lubrication Specialties has solved problems for some of the largest companies in North America, including: Nucor Steel, American Showa, Midwest Industries, X-Tec, among others. Introduced in 2005 by the company's flagship product, Hot Shot's Secret Stiction Eliminator, was originally developed for International Truck and Engine to resolve the issue with injectors on the Ford Power Stroke 6.0 liter engine.  Today, Lubrication Specialties focuses on solving issues directed at the oil, fuel and transmission systems of diesel and gas engines for the everyday consumer, fleet managers and repair shops.
Vision
Lubrication Specialties strives to continue to develop products that will specifically and globally reduce consumers carbon footprint and personal impact on the environment.
Mission
To solve real world "industry specific" problems that no one else can by quickly providing high quality solutions to all consumers. To create an unparalleled team with our employees, customers, and partners.
Values
Innovation
Family
Performance
Agility
Customer
Education
Lubrication Specialties, a wholly owned subsidiary of Gold Eagle Company, formed in 1997, is now celebrating the company's 25th anniversary. Lubrication Specialties has grown both organically and through acquisition over the years – LSI Chemical, Frantz Filters and now employs over 60 employees at their headquarters in Mt. Gilead, OH. In 2014, Lubrication Specialties purchased Frantz Filters and Fluid Recovery. In 2017, Hot Shot's Secret incorporated motorsports sponsorships and the brand spread by word of mouth as diesel race champions using Hot Shot's Secret products chalked up wins. To keep up with growth, Lubrication Specialties greatly expanded the company's bottling capability to increase production by 30% and added storage for 20,000 units. Hot Shot's Secret products are now sold at many major auto retail establishments, mass merchandisers such as O'Reilly Auto Parts, AutoZone, Tractor Supply, truck and travel centers, independent dealers and retailers and performance shops.
Lubrication Specialties Timeline
1997
1/1/1997 – Lubrication Specialties is formed; with a focus on industrial and equipment lubrication solutions
10/21/1997 – Lubrication Specialties incorporated as LLC, Sunbury, OH
2004
2004 – Hot Shot's Secret Stiction Eliminator was developed to resolve issues related to sticky injectors on the Ford PowerStroke 6.0L engine made by International Truck and Engine Corp; a subsidiary of Navistar
2009
2009 – First and only retail location
2010
2010 – First pallet-sized order
2011
2011 – Introduced Diesel Extreme
2013
2013 – Introduced EDT Everyday Diesel Treatment
2014
2014 – Acquired Frantz Filters, LLC.
2016
2016 – Launched FR3 Friction Reducer
12/8/2016 – OSU Car ES Test Report that demonstrated a 2.10% increase in fuel economy with the use of Diesel Extreme
2017
2017 – HSS introduces reformulated Stiction Eliminator
2017 – Lubrication Specialties Announces 20th Anniversary
12/20217 – Hot Shot's Secret Launches ADRENALINE Racing Oils
2017 – Hot Shot's Secret becomes the official fuel additive for NHRDA and Outlaw Diesel Super Series and sponsors the Pro Street Class of ODSS, Title sponsor of NHRDA
2018
4/03/2018 – Hot Shot's Secret Partners with Amalee Mueller for Save the Racks Charity
7/31/2018 – Lubrication Specialties Expands Distribution to Walmart, O'Reilly Auto Parts and Summit Racing Equipment
9/21/2018 – Firepunk Diesel Sets World Record
10/23/2018 – Introduces Green Diamond Engine Oil as official maintenance for Mahindra ROXOR vehicles
11/13/2018 – Lubrication Specialties Expands Production Capability 30%
11/26/2018 – Introduces Bore+Action Gun Oil
2019
1/15/2019 – Hot Shot's Secret Introduces Diesel Winter Rescue
1/21/2019 – Hot Shot's Secret Introduces Gasoline Extreme
2/14/2019 – Hot Shot's Secret Introduces Severe Duty Transmission Fluids and Gear Oil
2/27/2019 – Hot Shot's Secret Introduces ADRENALINE Racing Transmission Fluids and Gear Oil
4/25/2019 – Sponsors Josh Scruggs, new owner of Lavon Miller's Firepunk Diesel Truck
5/28/2019 – Announces Sponsorship of Firepunk Diesel's Outlaw Diesel Revenge
6/25/2019 – Hot Shot's Secret Introduces Green Diamond 15w-40 Synthetic Fleet Engine Oil
7/22/2019 – Lubrication Specialties President Chris Gabrelcik Joins Rank of Smart 50 – Wins Smart Business Innovation Award
10/07/2019 – Founder of Lubrication Specialties, Chris Gabrelcik, presents "Let's Tech – Nano Technology and the Future of Lubrication" at the 2019 AAPEX Show
2020
1/21/2020 – Became official sponsor of National Tractor Pullers Association (NTPA)
1/30/2020 – Hot Shot's Secret™ Introduces 10W-30 Green Diamond Fleet Diesel Engine Oil
2/25/2020 – Hot Shot's Secret™ Introduces Never Rust Lubricant
3/10/2020 – Hot Shot's Secret™ Introduces Gray Diamond Euro Engine Oil with FR3
3/12/2020- Hot Shot's Secret™ Announces Sponsorship of Firepunk Diesel's S-10 – The World's Fastest Diesel Door Slammer
3/17/20- Hot Shot's Secret Introduces Spray & Stay Grease
4/09/2020 – Reallocated bottling lines to produce hand sanitizer and donate sanitizer to healthcare workers, first responders and Over-the-Road truckers
4/23/2020 – Offers hand sanitizer for sale
5/28/2020 – Introduces Dedicated Additive Line for RVs
5/29/2020 – Launched Sanitize Your Track Campaign to help keep racetracks open across the USA
6/09/2020 – Rebrands Transmission Stiction Eliminator to Shift Restore
8/20/2020 – Forms LSI Chemical and Hires Todd Cawley as President
8/27/2020 – Lubrication Specialties Introduces "Fuel Your Mind" Video Series
9/15/2020 – LSI Chemical Joins Independent Lubrication Manufacturers Association
10/08/2020 – Hot Shot's Secret Introduces Blue Diamond G56 Severe Duty Transmission Fluid
10/22/2020 – Hot Shot's Secret Sponsored Firepunk Diesel S10 Crushes Diesel World Record at No Mercy 11
10/27/2020 – Hot Shot's Secret Announces CDL Discount Program
11/14/2020 – Better Business Bureau of Central Ohio Awards Lubrication Specialties the Torch Award for Ethics
12/17/2020 – Launches the Steve Sommers Overnight Drive Live from Hot Shot's Secret Studios
2021
2021 – Hot Shot's Secret brings diesel racing back to the West Coast – Sponsors Hole Shot Series Drag Racing
2021 – Become Ultimate Callout Challenge Sled Pull Sponsor
2021 – Official Fuel Additive of ODSS, NTPA, Hole Shot Series, Northwest Dyno Circuit, Ultimate Callout Challenge
2021 – Expands in the Gas Racing Marketing – Street Outlaws, No Prep Racing, Radial Racing, Radial Vs. The World, X275 PDRA and DuckX Productions
2021 – Sponsors Battle Scarred Motorsports, veteran led charity and Memphis Street Outlaws, Central Ohio Power Wheels Drag Racing (youth series)
2021 – Captured World Records for world's fastest: Diesel, Diesel Doorslammer, Cummins, Duramax, Powerstroke, 5.9L Cummins, 6.7L Cummins, 6.0L Powerstroke, 7.3L Powerstroke, 275 Radial Car
3/03/2021 – Firepunk Diesel S10 Achieves a 3-Second Pass at Lights Out 2021
3/09/2021 – The Steve Sommers Overnight Drive Show Expands Airing – Now Available on Android, Podcast & RSS Feed
5/04/2021 – LSI Chemical to Present Latest Nano Technology Research at the STLE Annual Meeting & Exhibition
7/07/2021 – TireHog Microwave-based solution effectively recycles 1,200 tires per day. The MRT TireHog is a 100% mobile machine that uses microwaves to recycle up to 1,200 tires per day.
9/21/2021- MotorTrend.com Cites Hot Shot's Secret Diesel Extreme as Best Diesel Fuel Additive in the Game
2021– Introduced RV Generator Oils and RV Engine Antifreeze
11/11/2021- Hot Shot's Secret Introduces 10w-30 Blue Diamond PAO Diesel Engine Oil
11/30/2021- Lubrication Specialties Expands – Adds 24,000 Sq. Ft. Distribution/Shipping Hub
2022
2022 – Lubrication Specialties Announces 25th Anniversary