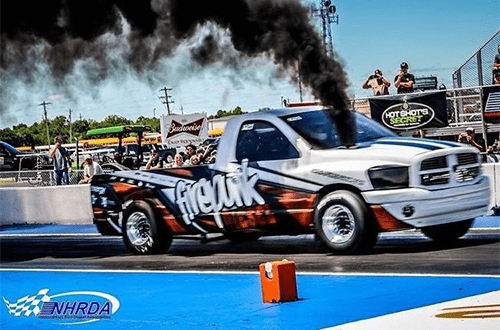 NHRDA Title Sponsor Hot Shot's Secret congratulates Lavon Miller and his team on setting the NHRDA Pro Street E.T. and MPH World Records. Lavon Miller and his team made the trip from Ohio to Oklahoma Diesel Nationals in Tulsa, OK ready to show the fans and competitors that he meant business.
In qualifying, Miller piloted his 2006 Dodge down the Tulsa Raceway Park drag strip in 7.993 seconds at 174.75 MPH! In his second pass, the Firepunk Diesel truck put up an 8.121 pass that awarded him the title of NHRDA Pro Street ET record holder. During his final run, he backed up his 174.75 MPH to take home the NHRDA Pro Street MPH record as well.
"We at Hot Shot's Secret would like to congratulate Lavon Miller and the rest of the Firepunk Diesel team for taking home the two NHRDA Pro Street World Records at Oklahoma Diesel Nationals. As one of our valued dealers, we are proud to have our products carried by such a dedicated shop, family and team" says Hot Shot's Secret CEO and President Chris Gabrelcik.
Firepunk Diesel is a diesel shop located in Plain City, OH. Primarily focused on competition transmissions, Firepunk Diesel continues to push the boundaries of diesel performance with every event they attend. Offering everything from tunes to turbochargers, be sure to check out Firepunk Diesel's website here.
Find awesome dealers like Firepunk Diesel and more on our dealer map: http://www.hotshotsecret.com/locations/