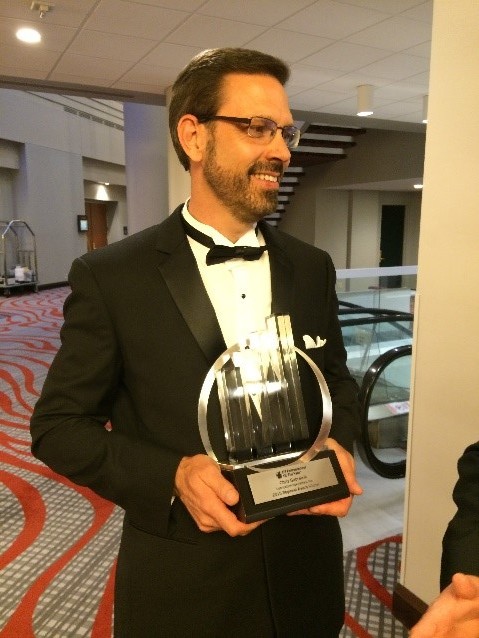 Mt. Gilead, OH, June 5, 2015 – EY today announced that President Chris Gabrelcik of Lubrication Specialties, Inc. is an EY Entrepreneur Of The Year® 2015 Award Winner in the Ohio Valley Region. The awards program recognizes entrepreneurs who demonstrate excellence and extraordinary success in such areas as innovation, financial performance and personal commitment to their businesses and communities. Chris Gabrelcik, founder of Hot Shot's Secret Stiction Eliminator was selected as an award winner by a panel of independent judges.
"It's an honor and I am very thankful" states Gabrelcik about being recognized as an EY Entrepreneur Of The Year® 2015 Award Winner in the Ohio Valley Region. "Our success as a company will remain focused on the research and development of problem specific solution for our customers."
Hot Shot's Secret Stiction Eliminator is the top selling oil additive for removing stiction from diesel engines and can restore 9 out of 10 failing injectors. Hot Shot's Secret Diesel Extreme is a high potency fuel additive combining detergents, dispersants and cetane to restore the diesel's original performance power.
Lubrication Specialties, Inc is building a 34,000 square foot facility that will open in 2016. As a resident of rural Morrow County, Gabrelcik has a passion to create jobs and keep them in Morrow County. "We've developed a strong team of hard working and enthusiastic go-getters" states Gabrelcik with a big smile on his face, "Most were unemployed when we hired them."
Now in its 29th year, the EY Entrepreneur Of The Year® program has expanded to recognize business leaders in more than 145 cities in more than 60 countries throughout the world.
Regional award winners are eligible for consideration for the EY Entrepreneur Of The Year National program. Award winners in several national categories, as well as the EY Entrepreneur Of The Year National Overall Award winner, will be announced at the annual awards gala in Palm Springs, California, on November 14, 2015. The awards are the culminating event of the EY Strategic Growth Forum®, the nation's most prestigious gathering of high-growth, market-leading companies.
Sponsors
Founded and produced by EY, the Entrepreneur Of The Year Awards are nationally sponsored by the Ewing Marion Kauffman Foundation and SAP America.
About Lubrication Specialties, Inc
Lubrication Specialties Inc. develops problem-specific solutions to end-users of diesel and gas engines. Leveraging the power of science, Lubrication Specialties Inc. and CEO Chris Gabrelcik have created a full line of additives that can solve stiction problems in practically all parts of an engine. Lubrication Specialties Inc. products are highly concentrated formulas that are much more impactful than the diluted products often found on the retail shelf. These products have been engineered to eliminate a specific problem and resolve related issues, which allows equipment to last longer and improve efficiency. The LSI family of companies includes Hot Shot's Secret, Frantz Filters, Fluid Recovery and Lubrication Specialties Inc. Products available at www.LubricationSpecialties.com.
About EY Entrepreneur Of The Year®
EY Entrepreneur Of The Year is the world's most prestigious business award for entrepreneurs. The unique award makes a difference through the way it encourages entrepreneurial activity among those with potential and recognizes the contribution of people who inspire others with their vision, leadership and achievement. As the first and only truly global award of its kind, Entrepreneur Of The Year celebrates those who are building and leading successful, growing and dynamic businesses, recognizing them through regional, national and global awards programs in more than 145 cities in more than 60 countries.
About EY
EY is a global leader in assurance, tax, transaction and advisory services. The insights and quality services we deliver help build trust and confidence in the capital markets and in economies the world over. We develop outstanding leaders who team to deliver on our promises to all of our stakeholders. In so doing, we play a critical role in building a better working world for our people, for our clients and for our communities. For more information about our organization, please visit www.ey.com.
Photos of Chris Gabrelcik
• President and Founder of Lubrication Specialties, Inc.
• EY Entrepreneur Of The Year® 2015 Award Winner in the Ohio Valley Region
• 2014 Ohio Strong Award Winner