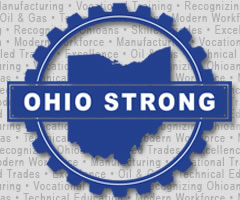 Lubrication Specialties, Inc. honored by Ohio Treasurer Josh Mandel for excellence in manufacturing
Mount Gilead, OH (October 2014) – Ohio Treasurer Josh Mandel's 2014 Ohio Strong Award — created to recognize men and women excelling in manufacturing and the skilled trades — was awarded to Chris Gabrelcik, CEO of Lubrication Specialties, Inc. (LSI) for his exemplary work done for diesel engines and his dedication to the manufacturing industry.
LSI's flagship product, Hot Shot's Secret Stiction Eliminator, was first engineered in 1997 for International Truck and Engine to fix the problem of "stiction" caused by the build up of burnt, sticky oil residue that slows the mechanical movement inside of fuel injectors – in the Ford Powerstroke 6.0 liter engine. LSI and Gabrelcik have since continued to use the power of science to engineer numerous other products that solve hard to handle diesel problems for semi, pick up trucks and other vehicles with diesel engines. LSI's Hot Shot's Secret brand of products are now available through 400 distributors and many retail locations including AutoZone, Tractor Supply Company (TSC), Rural King as well as most truck stops including Flying J, Pilot and Travel Centers of America.
"It's thrilling to see a resurgence in the need for skilled trade professionals in Ohio, and we're happy to be playing a role," says Gabrelcik. "Encouraging more individuals to explore careers in the trades is something in which we believe strongly because it means a larger, more skilled pool of potential employees from which we can hire. Supporting our local community – including hiring those who live here – is an important element of our company's DNA."
Gabrelcik received several nominations for the Ohio Strong Award, including one from the Morrow County Chamber of Commerce for his commitment to hiring local workers whenever possible, his ongoing support of local community programs, and his belief in advancing the local economy through the continual addition of new manufacturing jobs at LSI.
About Ohio Strong
The goal of Ohio Strong is to recognize Ohioans excelling in manufacturing and the skilled trades and to encourage more young people to pursue careers in these industries. Employers across the state are saying that in order to expand in Ohio, they need a workforce that is experienced in the skilled trades. Through Ohio Strong the Treasurer's office supports policies like putting shop class back in high schools, and increasing access to vocational and technical education programs. The ultimate goal is to help inspire the kids and grandkids of Ohio to enter these fields, as did so many in previous generations.
About Lubrication Specialties, Inc.
Originating in 1997, Lubrication Specialties, Inc. (LSI) develops problem-specific solutions for diesel engines. Leveraging the power of science, LSI and CEO Chris Gabrelcik have since created a full line of additives that can solve stiction problems in practically all parts of an engine. Located in Mount Gilead, Ohio, LSI continues to engineer products that eliminate specific engine malfunctions and resolve related issues, allowing diesel trucks and other equipment to last longer and with improved efficiency.
The LSI family of companies includes Hot Shot's Secret, Fluid Recovery, Frantz Filters and LSI Products.